Episode Credits | Dialogue | Did You Know... ? | Reviews | News & Ratings
Episode Summary

"There's Fire" / Season 2, Episode 17
A story of
Broadcast: February 28, 2006

Alan represents Joan Rubin in her case against her employer who asserts his employees should not smoke cigarettes in the privacy of their homes in order for his business to save on health insurance. Denny makes a commitment to Bev, then feels uneasy over her manipulations. The partners discuss Denny's personal expenses charges to the firm.

From ABC: Within three hours of getting married, Denny Crane is caught with another woman and Bev Bridges (Joanna Cassidy) demands an annulment and 50% of her brand new husband's worth. While the attorneys from Crane, Poole & Schmidt frantically rally around their colleague to rescue him, Bev hires the slick, handsome divorce lawyer Eli Granger (Corbin Bernsen) to represent her. Meanwhile, Alan Shore defends Joan Zeder (Nicole Sullivan), who was fired from her job after being unable to adhere to the company's strict no-smoking policy.

Episode Credits

Directed by .... Mike Listo
Written by .... Janet Leahy & Lawrence Brock

Joanna Cassidy .... Beverly Bridge
Nicole Sullivan .... Joan Rubin
Corbin Bernsen .... Attorney Eli Granger
Tony Denison .... Kurt Loomis
Richard Portnow .... Judge Peter Harding
Kevin Dunn .... Attorney Jonathan Weiner
Peter Breitmayer .... Joel Landson
Patti Yasutake .... Dr. Claire Simon
Will Greenberg .... Troy
Deena Dill .... female server
Billy Valentine .... bandleader
Phil Weyland .... Kelly
Tim McFadyen .... Steve
Alfie Silas Durio .... singer

>> More information on the guest stars in our forum

Set Photographer: Scott Garfield
Set Photos taken January 11 & 13, 2006
© 2006 ABC, INC.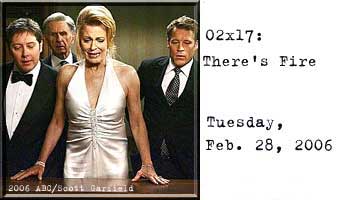 Episode Dialogue


Alan Shore: Congratulations. I saw you were the lucky one who caught Bev's garter.
Paul Lewiston: Yes. I'm going for a full battery of tests first thing in the morning.
__

Denny Crane: I love you.
Bev: I love you more.
Denny Crane: I love you more more.



Female server at the wedding, carrying a tray of filled champagne glasses: Smiles, flirty. Nice night.
Denny Crane: *A beat, then* Suddenly it is.
__

Joel Landson: There could be more investigations. And all the partners will be liable. We're talking Arthur Anderson headlines.
Brad Chase: We're screwed.


Photo: Scott Garfield / © 2006 ABC Television, Inc. / David E. Kelley Productions / Taken Jan. 13, 2006

Alan Shore: You know how I love the spectacle of fireworks. And when one attaches one's coat tails to another and that person makes a decision no matter how big or small, and this case big, one must pay the price of that attachment.
Shirley Schmidt: It would have been easier just to have sex with you.
__

Bev: Actually, Denny, once you see the Kona Coast, you may even be thinking of first homes.
Denny Crane: Good natured. What am I supposed to do, beam myself to Boston every morning?
__

Photo: Craig Sjodin / © 2006 ABC Television, Inc. / David E. Kelley Productions / Taken Dec. 12, 2005


Did You Know... ?

Six Degrees of the Guest Star
Corbin Bernsen as Attorney Eli Granger - Bernsen has been appearing on film and TV since the mid-70s and had his first major role in 1983 on the daytime drama Ryan's Hope. But it was his 8-year turn as sleazy lawyer Arnie Becker on LA Law which proved to be the defining role of his career. Bernsen received two Emmy and two Golden Globe nominations for this role, while working with young writer David E. Kelley. Since then, Bernsen has remained active without quite achieving the same stature - appearing in the three Major League films, for example - although he did have a memorable guest appearance as "Q2" in an episode of Star Trek: The Next Generation (1990). In recent years, Bernsen has returned to his daytime roots and currently has a recurring role on General Hospital.



Thanks to Sue for this research. For more acting Six Degrees for every guest star in this episode, see our forum episode page
Episode Reviews


| 2.17 'There's Fire' written by Abney


Coming soon.


Written by: Abney | Send feedback and comments to Abney at aliasabney@hotmail.com





Episode News


Ratings Ratings [101 by Nielsen]

Feb. 21, 2005 "There's Fire"
Households:

>> More ratings information in our Forum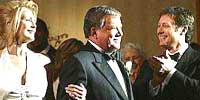 Episode Forum
Share your thoughts >> go

Episode Video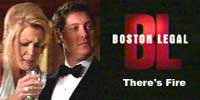 Watch the preview for "There's Fire" (:40) Airdate: February 28, 2006

Boston Illegal Radio


"Breast in Show" mp3 download [48 min; 16 mb]



Listen or subscribe via Yahoo Podcasts

Listen with streaming mp3 or subscribe via Odeo


iTunes subscription
Download free iTunes application


Listen on your cell phone
Episode Images
Memorable scenes >> go
Transcript
Read the episode, transcribed by Imamess: [pdf] Transcript
Episode Ratings
February 28, 2006:
Households: