Episode Credits | Dialogue | Did You Know... ? | Reviews | News & Ratings
Episode Summary

Eye for an Eye / Season 1, Episode 5
First broadcast: October 31, 2004
Lori and Sally take on a criminal case defending a man, Jason Binder, who is accused of killing another man at a bar with a martial arts-type punch to the throat, and whose only character witness is his mother -- who doesn't make the best impression herself because of her glass eye...which tends to fall out when she gets excited. Meanwhile, Shore and Tara, the sexual tension between them growing, take the case of a hypochondriac, Bill Morgan, who is suing his doctor for malpractice; and the partners are concerned when Crane takes over one of Edwin Poole's cases, especially considering Crane is not at all prepared to try the case - which is taking place the following day - and is flat-out denied a continuance by a spiteful judge.
Episode Credits

Directed by ... Mike Listo
Written by ... David E. Kelley, Jeff Rake
Rene Auberjonois ... Paul Lewiston
Fred Koehler ... Jason Binder
Karl T. Wright ... A.D.A. George Martin
Lorna Raver ... Judge Katherine Taylor
Chris D'Elia ... Kevin Quinlan
Larry Clarke ... Bill Morgan
David Clennon ... Attorney Braxton Mason
Michael Ensign ... Judge Resnick
Michael Oberlander ... Dr. Steven Rayburn
Louis Giambalvo ... Judge Franzetti
Rusty Schwimmer ... Helen Binder
David Brisbin ... Derek Ross
Terry Bozeman ... Adam Herbett
Allan Wasserman ... Attorney Goldberg
Derek Magyar ... Gregory Stone
Marcy Goldman ... foreperson
Christine Cindrich ... Julia
Jack Shearer ... night court judge
Aydiee Vaughn ... night court hooker
Steve Seagren ... night court beat cop
Episode Dialogue


Jason Binder: Well, I live at home. I work at home. I hardly ever go out. My motherís the only one that - But I gotta warn you. She doesnít make the best impression.
Lori Colson: What do you mean?
Jason Binder: Well, sheís got a glass eye, and it doesnít fit so good. And when she gets upset - If you put her on the stand, donít get her upset.

__

Paul Lewiston: Denny, do you understand what this case is about?
Denny Crane: I do, Paul.
Paul Lewiston: Can you succinctly tell us?
Denny Crane: The plaintiff thinks heís getting bilked for drugs and supplies. His evidence is we charge hospitals and clinics less for those very drugs and supplies. Our argument is, the mere offering of a discount to a consumer does not constitute the overbilling to another. In fact, since hospitals and clinics with E.R.ís regularly treat those who cannot pay, an argument could be made that weíre extending these discounts to those most in need. Weíre saving lives, damn it. And I will not apologize for my clientís billing practices. I salute them. I invite you to salute them.
Brad Chase: Okay. Letís turn to the vertical integration between our clients and the hospitals.
Denny Crane: What the hell is that?

__

Tara Wilson: You donít know me, Alan Shore, not as well as you think.
Alan Shore: No?
Tara Wilson: No. Certainly not as well as I know you.
Alan Shore: How well is that?
Tara Wilson: I know that there are three Alan Shores. The good, the bad and the naughty. The good Alan, the man that I saw today in court, is honorable and decent. But you canít bear the burden of being that man. Thus the bad Alan, who lays to waste everything in his life that seems right. I do have intentions. My intentions are to get beyond the bad which Iíve tried to do again and again by appealing to the good. But it appears to me that perhaps I should be appealing to the naughty.
Alan Shore: Iím not certain the Tara Wilson I know is up to the task.
Tara Wilson: Again, you donít know me, Alan.

__

Denny Crane: Thick file.
Paul Lewiston: Of course itís a thick file. Itís a class action involving thousands of plaintiffs, and itís complicated,
Denny.
Denny Crane: Thick file.
Paul Lewiston: Look, all we can do is throw ourselves at the mercy of the judge. If you and I both go to see him
and explain Edwinís situation, maybe heíll give us some time.
Denny Crane: Thick file.

__

Denny Crane: I see a rubber glove, Iím heading in the other direction, Iíll tell you that.

Did You Know... ?


Promotion
Rene Auberjonois is still a guest star in this episode. It'll be two more weeks (November 15) until he is bumped up from guest star to series regular.


Six Degrees
Fred Koehler portrays Jason Binder in Eye for an Eye, the kid in Lori and Sally's case who has a mother with a glass eye that pops out. He's played extremes in his career - from the cute kid in "Kate and Allie" to a tattooed inmate in "Oz".


Episode Reviews


none at this time
Episode News


"Halloween grab bag: They're creepy and they're kooky, and they're all over the tube this week"
By Diane Werts / Newsday.com

October 25, 2004 - Halloween TV gets more frighteningly pervasive every year. Shows that have no business getting into the holiday spirit ("Boston Legal"?) take the opportunity to peg an episode to the annual spookifying, making it a handy crutch for both plot points and promos.

Every now and then, a series completely gets it - see those great Halloween episodes of "Roseanne." (And you can. Nick at Nite airings are listed below.) But more often, storylines get contrived, stars get embarrassed, and it's enough to make you consider watching "Fear Factor" instead. Oh, wait . . .
[edit]
Boston Legal (Sunday at 10p.m., ABC/7) - Creepy cases involve a man accused of killing with a martial arts punch and a witness whose glass eye falls out.


Ratings


From mediaweek.com:

Sunday 10/31/04
Although Desperate Housewives lead-out Boston Legal was also first at 10 p.m. among adults 18-49 (4.8/13, a second place finish in the overnights (8.5/14) and total viewers (12.58 million), with erosion out of Housewives of 46 percent in the overnights, 9.74 million viewers and 51 percent among adults 18-49 means that ABC can do better -- much better -- at 10 p.m.

On NBC, Dateline (5.1/ 8; A18-49: 1.8/ 5) and American Dreams (5.3/ 8; A18-49: 2.4/ 6) remained the distant No. 3 choices from 7-9 p.m., while Crossing Jordan at 10 p.m. (#1: 9.2/15; Viewers: #1, 12.60 million; A18-49: #2, 4.4/12) managed to beat ABC's Boston Legal in the overnights and total viewers despite the benefit of Boston Legal airing out of Desperate Housewives.

ABC's Press Release:

Fast Facts for Sunday, October 31, 2004 (Based on Fast Affiliate Ratings*)
ABC's "Boston Legal" ranked No. 1 in its hour among Adults 18-49, leading NBC's "Crossing Jordan" (4.8/13 vs. 4.4/12). The new drama also took first place in its time slot among Adults 25-54 (5.7/14).

From Variety:

The combination of "Desperate Housewives" and "Extreme Makeover: Home Edition" again proved unstoppable for ABC on Sunday, as the Alphabet captured the night in key demo categories, according to preliminary nationals from Nielsen.

After "America's Funniest Home Videos" (2.8/8 in adults 18-49, 9.3 million viewers overall) was a solid second to football in the 7 o'clock hour, "Extreme Makeover: Home Edition" (6.2/16 in adults 18-49, 14.9 million viewers overall) and "Desperate Housewives" (9.8/23 in adults 18-49, 22.3 million viewers overall) both dominated their hours, with the latter hitting a high for a second straight week.

At 10, ABC's "Boston Legal" (4.8/13 in adults 18-49, 12.6 million viewers overall) retained less than half of its 18-49 "Housewives" lead-in but still topped NBC's "Crossing Jordan""Crossing Jordan" (4.4/12 in adults 18-49, 12.6 million viewers overall).
Source: Nielsen Media Research data

Update for November 2:

BL placed #25 of 114 shows for the week ended 10/31/04. That's up from #31 last week.

Crossing Jordan #21 12.7mm
Desperate Housewives #4 22.1mm
L&O:Criminal Intent #26 11.5mm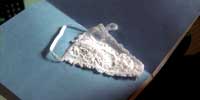 Episode Video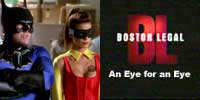 Boston Legal: Eye for an Eye
Season 1, Episode 5
Airdate: October 31, 2004


Watch 1st segment clip (2:30)
wm stream; 298 bitrate / no downloads

Episode Images
Memorable scenes >> go

Episode Forum
Share your thoughts >> go

Transcript
Read the episode, transcribed by Sue: [pdf] Transcript

Episode Ratings
"Boston Legal" placed #25 of 114 shows for the week ended 10/31/04. 4.8/13 in adults 18-49, 12.6 million viewers overall