Episode Credits | Dialogue | Did You Know... ? | Reviews | News & Ratings
Episode Summary

"Helping Hands" / Season 2, Episode 12
A story of helicopter parents, Asperger's Disorder, geckos named Linda, the mambo, a Chinese wall, The Schmidt and "Bev Crane!"
Broadcast: January 17, 2006

Daniel Post (Michael J. Fox) convinces his new love, Denise Bauer, that he should second-chair in her case against overbearing parents who harass their teenaged daughter's teacher. Meanwhile, Shirley Schmidt makes life difficult for Alan Shore as he prepares his defense of Jerry "Hands" Espenson (Christian Clemenson), the firm's brilliant but quirky attorney who held a cake knife to Shirley's throat. And the partners at Crane, Poole and Schmidt worry about Denny Crane's impending nuptials and the kind of influence his future wife, Beverly Bridge (Joanna Cassidy), could have over the firm.


Episode Credits

Directed by .... Bill D'Elia
Written by .... Phoef Sutton & Andrew Kreisberg

Lou Beatty Jr. .... Judge Gordon Kolodny
Veronica Cartwright .... Judge Peggy Zeder
Joanna Cassidy .... Beverly Bridge
Christian Clemenson .... Jerry Espenson
Kelly Connell .... Attorney John Hoberg
Marisa Coughlan .... Melissa Hughes
Takayo Fischer .... Clerk
Michael J. Fox .... Daniel Post
Megan Gallagher .... Gigi Gering
Currie Graham .... A.D.A. Frank Ginsberg
Michael Kostroff .... Dr. David Cannon
Konstantina Mallios .... Receptionist
Robert Frank Telfer .... Man
Audrey Wasilewski .... Traci Carpenter
The Gecko .... Linda

Set Photographer: Vivian Zink
Set Photos taken October 27-29, 2005
© 2005 ABC, INC.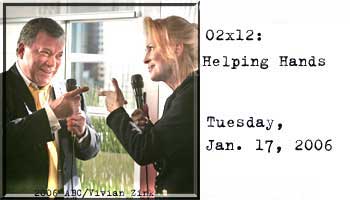 Episode Dialogue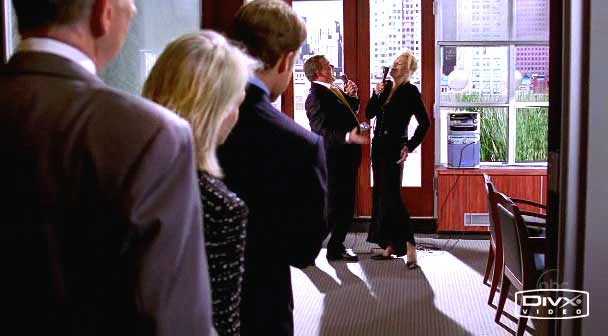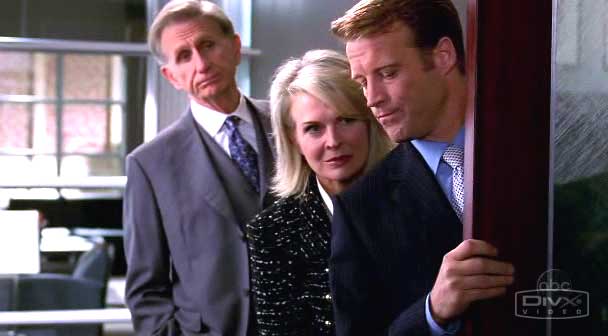 Denny Crane and Beverly Bridges, singing: Iíve had the time of my life. Iíve never felt this way before. Yes I swear, itís the truth. And I owe it all the you Ďcause I had the time of my life. Iíve never felt this way before. And I owe it all before. You, you, you, you, you.
__

Alan Shore: Your Honor! This incident was an aberration. Mr Espenson is an upstanding member of his community, is not a danger to society, and he has a family counting on him at home. He has dependants. Her name is Linda.
A.D.A Frank Gingsberg: Your Honor. Let the record show that Linda is a gecko.
__

Shirley Schmidt: Understand that everyone at the firm is considered a witness. Donít expect anyone to help you. Or speak to you.
Alan Shore: And wonít that make for a refreshing change?
__

Daniel Post: Daniel Post.
Denny Crane: Denny Crane.
Daniel Post: Iím a client.
Denny Crane: Iím a partner.
Daniel Post: CEO, Christberg and Phelem.
Denny Crane: My name is on the door.
Daniel Post: I love the office.
Denny Crane: Thank you. I love your hair.
Daniel Post: I got a plane.
__

Alan Shore: But you are guilty, Jerry. A whole office full of people saw you do it. One of the junior associates took a video of you on his cell phone. Heís thinking of entering it in a film festival.
Jerry Espenson: No plea bargain!



Did You Know... ?

"Keep Me In Your Heart For Awhile" by Warren Zevon
Zevon wrote this haunting and beautiful song while he was dying of lung cancer. The lyrics:
"If I leave you it doesn't mean I love you any less
Keep me in your heart for awhile."
Real Rhapsody video [must have the real player installed]

Helping Hands v. Star Trek: Trek in the Courtroom
Explore the themes and similarities between this episode and the Trek franchise
Captain of the Ship
Captain's Mamba
Star Trek Alumni
>> Details and images [pdf]
Episode Reviews


2.12 "Helping Hands" written by Abney

Surrender

So - despite snapping and holding Shirley Schmidt to within an inch (quite literally) of her life, Jerry Espenson still comes off to me as, ultimately a likable character. Sure, a bit "awkward ... unsociable" like his record from Crane, Poole, and Schmidt, but not the monster Shirley tried to make him out to be to get her own brand of justice and revenge thrown into a blender. Everyone has a history, and nobody is the way they are for no reason at all. In Jerry's case, he has serious issues with his father as well as a difficult to understand syndrome that causes him to behave in the eccentric way he does. That doesn't make right what he did to Shirley - but is he deserving of the legal attack he was met with?

Revealing from this story is more in the convoluted (in an excellent way, of course) character that is Alan Shore. More and more he's showing one of his most reliable traits to be compassion, and yet he seems to always be detested by those around him. Some people see through his shell, but, despite all of his actions helping people he need not help, most still see him the same way. Which is tragic, because there is so much more to the man, as this episode showed. He had plenty of opportunities to throw in the towel, but that isn't in his nature; he's a fighter at heart. He doesn't give up. Which is why, while against all legal advice, he understood Jerry's need to fight the charges brought against him. Neither of them were willing to settle, and both of them would rather go down swinging, knowing they had tried everything they possibly could.

Interestingly enough, Shirley displayed a similar tenacity - on the offensive rather than the defensive. Since she first walked through the doors of Crane, Poole, and Schmidt, she has shown herself to be an immensely powerful woman, capable of doing what some would say are horrible, ruthless things (firing Sally?) to maintain her business' integrity and functionality. Never has this woman been vulnerable, not even around Denny, a person with whom her alluded-to past has become something of a running joke. Never until now. It's ironic then, that someone such as Jerry, whom she herself believed to be unworthy of partnership within the firm, is the person to get to her, to make her feel fear for the first time in what was probably a very long time. She has lived in an environment where she is top dog for so long to be threatened so suddenly and so violently the way she was gave us an interesting look at the inner workings of Shirley Schmidt.

However, while she did show an unprecedented amount of vulnerability as a result of these circumstances, that is not to say she is not the same balls-of-steel woman she was before. She is very capable inside a courtroom - on the stand as well as in front of as she proved in this episode, taking the wind right from Alan's sails when she prevented him from making his point about Jerry's excellent work for Crane, Poole, and Schmidt as dramatically as he would have liked. She realized the weakness she was showing and was determined to erase any doubt that she is the same strong woman she has always been.

Ultimately, this was a story of determination. Having the will to do what you need to do, when you need to do it. Alan and Jerry demonstrated this throughout Jerry's case, inside the court room and out. Daniel showed it as well, proving that even a dead man can win a court case if he's charming enough. Perhaps the most interesting example of all this however is Denise. "Why is she getting involved with a dead man?" is a question I asked myself as Daniel asked her flat-out, and I haven't been able to come up with a reasonable answer. I don't think she has been able to either. For now, I think it is sufficient for her to deny the truth. But behind everyone's back, she still has hope. Because no matter how many times Daniel calls himself a dead man, she refuses to believe this to be true. She will continue looking for a cure until Daniel's final breath. She won't surrender.

THE GOOD
- The instant rapport between Denny and Daniel was fun to watch on screen, and very believable given the personality of each. Plus Denise's reaction was just priceless, since I take it almost no one (other than perhaps Alan) has been able to connect with Denny so rapidly.
-The mambo dancing was lovely. I think I can just leave it at that, no need to mention three little letters (OTP anyone?)...

-"Let's stop the badgering". At first I though Daniel was just hurting Denise's case rather than sitting in on it until I realized what their plan was, and it was a devilishly clever one that got the point across in a tangible way. I can't say whether or not ACTUAL lawyers do things like that, but I know it was interesting to see pulled off.
-I liked when Alan accused the prosecution in Jerry's case of charging Mr. Espenson with everything "short of the Lindbergh kidnapping". That was a nice touch.

THE BAD
- Bev and Denny singing karaoke. I mean ... c'mon. "Time of My Life"? Seriously? I mean, really? I've seen Flashdance enough times to know that no one should sing that song, especially not these two.
- Paul and Denny arguing over the new prenup -- while I do love the antagonism Paul brings to the firm, what was 'bad' about this scenario was the flimsy analogy. Deckhand? Captain? In my opinion, they took it a bit too far.

THE UGLY
- The whole issue of 'helicopter parents'. I guess I could say I have a unique perspective on this issue as many of my peers have parents like this, and I'll tell you the truth -- in many cases, television exaggerates things to the point where they are often unrecognizable. This was NOT one of those times. There really ARE parents like that; whether or not you believe they are doing a disservice to their children and to educators is your personal belief, but I find it difficult to think that such an attitude towards your child's growth can only hinder him or her, no matter how noble your intentions.

- Daniel's little morbid 'Make-a-Wish Foundation' joke. He crosses this line a lot though; it's definitely a good thing he's such an endearing character.

- "The Schmidt". 'Nuff said.




Episode News


Ratings Ratings [101 by Nielsen]

Jan. 17, 2005 "Helping Hands"
Households: 7.9/13, #6; adults 18-49: 3.3, #7 with 11.8 mil viewers; BL rated higher than its Commander in Chief lead in [households: 7.3/11, #7; adults 18-49: 2.5, #T10] and partially better than its competition, the premiere of CBS' "Love Monkey" [households: 5.9/10, #8; adults 18-49: 3.5, #6]. L&O:SVU scored higher as usual.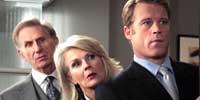 Episode Video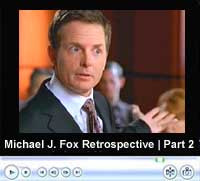 Watch scenes from Michael J. Fox's "Helping Hands" storyline (14:08) wm stream; 340 bitrate / no downloads [Part 3-4 coming]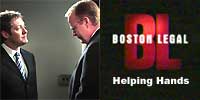 Watch the "Helping Hands" preview (:40)
Airdate: January 17, 2006
wm stream; 340 bitrate / no downloads

Boston Illegal Radio


"Trek in the Courtroom: Helping Hands" mp3 download [16 min; 5 mb] >> podcast show notes



Listen or subscribe via Yahoo Podcasts

Listen with streaming mp3 or subscribe via Odeo


iTunes subscription
Download free iTunes application


Listen on your cell phone
Episode Images
Memorable scenes >> go
Transcript
Read the episode, transcribed by Imamess: Transcript [pdf]
Episode Forum
Share your thoughts >> go
Episode Ratings
January 17, 2006:
Households: 7.9/13, #6; adults 18-49: 3.3, #7 with 11.8 mil viewers