Episode Credits | Dialogue | Did You Know... ? | News & Ratings
Episode Summary

"Squid Pro Quo" / Season 2 Episode 25
Broadcast: May 9, 2006

The ambitious but back-stabbing Marlene Stanger (Parker Posey), also known as "The Squid" - the only animal believed to be able to kill a shark - joins the firm, and Denise Bauer wonders if there's enough room for the both of them. Meanwhile, when Denny Crane is pitted in court against his son, attorney Donny Crane (Freddie Prinze, Jr.), their politically different viewpoints come to the surface as they seek justice in a case about a woman who lost her baby at an inadequately supplied clinic in Nepal. And, after Paul Lewiston's daughter, Rachel, returns from rehab, Brad Chase hopes they can pursue a relationship.

Episode Credits

Directed by .... Jim Bagdonas
Written by .... Janet Leahy & Lawrence Broch

Marisa Coughlan .... Melissa Hughes
Jayne Brook .... Rachel Lewiston
Freddie Prinze, Jr. .... Donny Crane
Parker Posey .... Marlene Stanger
Amrapali Ambegaokar .... Kavita Pokharel
Jenny OíHara .... Judge Kimberly Ohlund
Ray Proscia .... Paul Schwimmer
Purva Bedi .... translator
Harsh Nayyar .... Dr. Barati Waibi
Chris Moynihan .... Derek Roth
Don McManus .... Atty. John Lennox
Jennifer Lynne Wetzel .... Tina Moran
Laura Carson .... foreperson
Joe Conti .... bailiff
April Rios and Ashley Rios .... Fiona

Image credit: © 2006 ABC / Danny Feld
Images taken April 10-13, 2006; abcmedianet.com

>> More information on the guest stars in our forum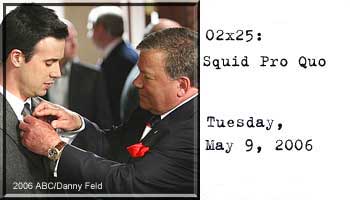 Episode Dialogue


Dr Harati Waibi: Even thought itís legal in Nepal, our clinic made the decision not to in order to receive US funding. However, we hung up a poster that said, ďWe Believe That A Woman Has A Right To Control Her Own Body.Ē
Denny Crane: Objection, misleading. Women canít control their bodies. Theyíre either menstruating or lactating.
__

Denny Crane: This is completely disrespectful. You donít come home to papa by suing his government.
Donny Crane: Someone has to, Dad. Our policy is denying thousands of people life-saving medical care, based on the personal religious views of our leader. Nothing says democracy like imperialism.
Denny Crane: Why canít you for once come to town and we just toss the pig skin? Thatís American.
__

Derek Roth: Now, anytime someone tries to Google my name or my company, Rothís Plumbing Supplies, instead of finding my website, yours is the first site that comes up. My sales have dropped forty percent since that posting!
__

Denny Crane: Alright. What are we doing in Mexico?
Paul Schwimmer: Thatís where President Reagan first enacted the policy in 1984. He enacted it as a reaction to forced abortions in China as a means of population control.
Denny Crane: Chinese, MexicanÖ *To jury* Whoís getting hungry?
__

Donny Crane: So donít you find it curious that in our Administrationís quest to stop abortion, weíre actually restricting free speech which is a hallmark of democracy?
Denny Crane: Objection. Irrelevant and unpatriotic.
__

Derek Roth: And she said I have no sense of humor. I make jokes all the time.
Atty John Lenox: Those arenít jokes. Theyíre puns and puns arenít funny.
Derek Roth: Well, thatís just your o-opunion.
Denise Bauer: Oh, good Lord.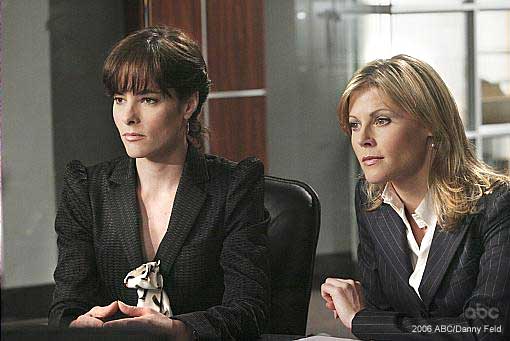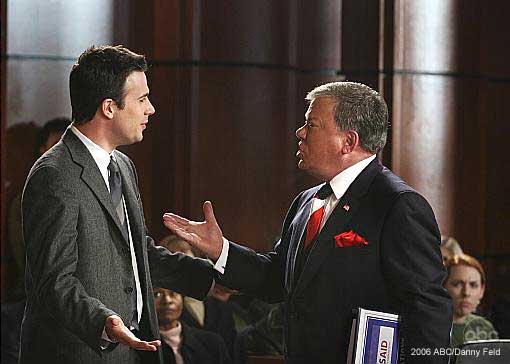 Did You Know... ?

Trek in the Courtroom
2x25: Squid Pro Quo
Themes
Humanity on Trial
The Emotional Debate
Star Trek Alumni: Ray Proscia/Paul Schwimmer and Don McManus (Attorney John Lennox)
>> Details and images [pdf]


Six Degrees of the Guest Star

Parker Posey as Marlene Stranger - labeled the "Indie Queen", Posey has performed in nearly 50 mostly independently-produced films since her first screen credits in 1993. In 1997, she won acclaim - including a special recognition award at the Sundance Festival - for her performance in The House of Yes, which also featured Freddie Prinze, Jr. She has also appeared in several of Christopher Guest's famous mockumentaries, including Waiting for Guffman (1996), Best in Show (2000), A Mighty Wind (2003), and the upcoming release, For Your Consideration. On TV, she first made a name for herself on daytime drama As the World Turns (1991-2) and later was nominated for a Golden Globe award - along with Shirley MacLaine - for Hell on Heels: The Battle of Mary Kay (2002). Often cast in antagonistic roles, Posey will play one of villain Lex Luthor's sidekicks in this summer's Superman Returns.


Freddie Prinze, Jr as Donny Crane - Prinze makes his first appearance of the season after also portraying Denny's not-quite-adopted son on two episodes in season 1. The son of the late actor/comic for whom he was named, Prinze has been in the spotlight ever since he opted for a show business career. In fact, according to IMDb, he has more appearances as 'himself' (talk shows, award shows, etc) than in acting roles. His films to-date - such as I Know What You Did Last Summer (1997), She's All That (1990), Down To You (2000), and Scooby-Doo (2002) - have been mainly aimed at younger audiences to take advantage of his pin-up star good looks. His TV credits include episodes of Family Matters (1995), Frasier (2002), and Friends. Currently, he stars on his self-created ABC sitcom Freddie.


Chris Moynihan as Derek Roth - Moynihan featured in the mockumentary A Mighty Wind (2003) with Parker Posey and will also appear with her in another Christopher Guest spoof, For Your Consideration. Moynihan's TV credits include recurring roles on The Hughleys and According to Jim, and he was one of the stars of the short-lived American version of Coupling (2003).


Directed by:
Jim Bagdonas - Bagdonas previously directed 2x06, "Witches of Mass Destruction". In his long career in show business, Bagdonas has worked his way up through the ranks, starting out as a camera operator, then moving on to cinematography and finally getting his first directing credit in 1991 for the TV series Silk Stalkings. Prior to this season, he also did cinematography and directing work for David E. Kelley on Chicago Hope. Bagdonas also had a brief acting career, appearing in the 1977 film Meatcleaver Massacre.




Thanks to Sue for this research and writing. For more acting Six Degrees for every guest star in this episode, see our forum episode page



Episode News


Ratings [101 by Nielsen]

May 9, 2006 "Squid Pro Quo"
Households: 9.33 million; 6.3/11. 10pm: 6.2/10 (2.6); 10:30pm: 6.5/11 (2.8); 2.7 in 18-49; #3 in the hour. Last week: 10.4 million (#2), 7.4/12; A18-49: 3.1/ 8 (#2)

>> More ratings information in our Forum





Parker Posey gets killer role in 'Boston Legal'
Hollywood Reporter By Nellie Andreeva
Parker Posey will star in three episodes of ABC's drama "Boston Legal."
She will play Marlene Stanger, a recent transfer from another firm. Nicknamed "The Squid" after the only animal in popular mythology that can kill a shark, Stanger is a BlackBerry-carrying politico looking to make partner.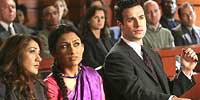 Episode Forum
Share your thoughts >> go

Episode Video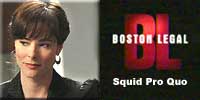 Watch the preview for "Squid Pro Quo" (:60)

Boston Illegal Radio


"Race Ipsa" podcast
Special guest co-host Deb Hiett, Cindy, Denny's therapists assistant who walked in on a Denny's felony against Dr. Sydney Field.
Race Ipsa mp3 d/l [86 min; 30mb]



Listen or subscribe via Yahoo Podcasts

Listen with streaming mp3 or subscribe via Odeo


iTunes subscription
Download free iTunes application


Listen on your cell phone
Episode Images
Memorable scenes >> go
Transcript
Read the episode, transcribed by Imamess: [pdf] Transcript
Episode Ratings
May 9, 2006:
Households: 9.33 million; 6.3/11. 10pm: 6.2/10 (2.6); 10:30pm: 6.5/11 (2.8); 2.7 in 18-49; #3 in the hour. Last week: 10.4 million (#2), 7.4/12; A18-49: 3.1/ 8 (#2)