Episode Credits | Dialogue | Did You Know... ? | Reviews | News & Ratings
Episode Summary

"A Whiff and a Prayer" / Season 2, Episode 4
A story of Minutemen, losing your head in court, atoning sins and sewer fishing - Glory, glory hallelujah!
Broadcast: October 18, 2005
Forced by a client to put Denny Crane on the case, Shirley Schmidt reluctantly enlists his help to defend a Democratic Congressman being sued for not keeping a campaign promise to pass a ban on assault weapons. The right-wing Crane is an unlikely defender from the start, but Schmidt really wonders if she made the right decision when he goes missing the day of his closing. Meanwhile, Alan Shore, still reeling from Tara's exit, focuses on defending Catherine Piper (Betty White), accused of murdering his client, Bernard Ferrion. And Reverend Diddum (Kurt Fuller), Denise Bauer's ex-husband's lawyer, threatens to report Sara Holt and Garret Wells to their superiors for their ruse to get him to drastically reduce his client's alimony -- but he'll forget the whole matter if Sara gives in to a sexually perverse request.


Episode Credits

Directed by .... Bill D'Elia
Written by .... David E. Kelley
Edited by ... pending
Lou Beatty Jr. .... Judge Gordon Kolodny
Ryan Cutrona .... Congressman Raymond Jacobs
Michael Bryan French .... Alex Naughton
Kurt Fuller .... Reverend Donald Diddum
H. Richard Greene .... Judge Harry Hingham
Lisa Kaminir .... D.A. Valerie Murro
Bob Rumnock .... Foreman
William Russ .... Attorney Christopher Palmer
John Thaddeus .... Detective John Stephenson
Betty White .... Catherine Piper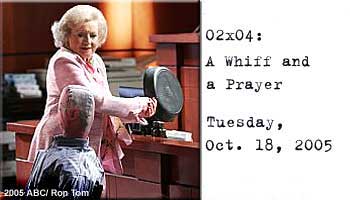 Episode Dialogue


How do you feel about gun control?
Denny: For communists.
How about assault weapons in the private sector?
Denny: HA!
__

"We the jury find the defendant, Catherine Piper...."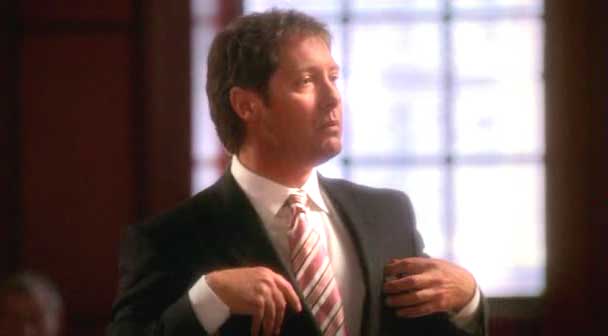 During the cross of the police detective, Alan does The Columbo, slowly rolling out excellent points: "Oh, by the way..."
Judge: Mr. Shore!
Prosecutor: Objection!
Alan: What? WhatdaI say?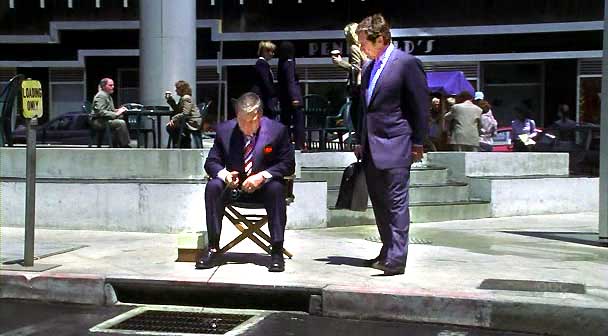 Denny: With all the rain, the Charles has spilled into the sewage systems.
Alan: It isn't exactly Nimmo Bay.
Denny: Word is, they're catching some uncommon ones. *pause* I think I'm going to retire, Alan.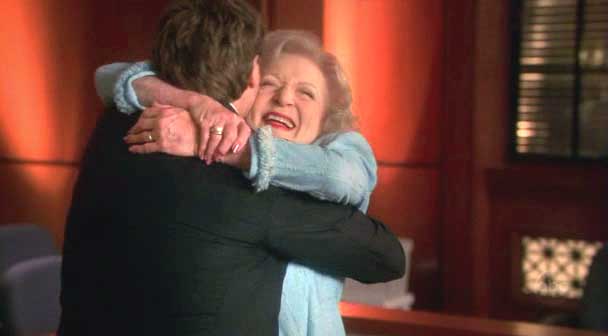 Catherine: You know, in all the time I've known you, Alan, I don't think I've ever hugged you.
Alan: We need to fix that.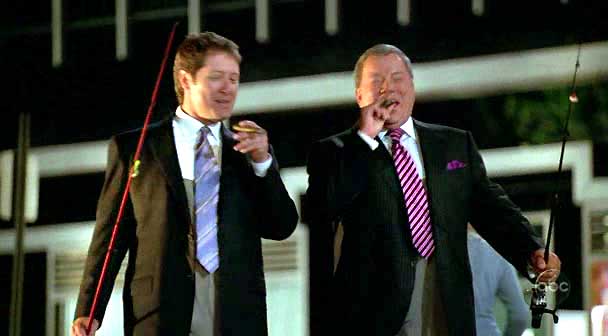 Denny: What's your (New Years) resolution?
Alan: It's October
*Denny looks surprised and checks his watch to be sure*
Alan: And that's a watch.
Denny: October's not too late to make a resolution. You don't have any.
Alan: Mine would be to appreciate my friends every single day - and catch more fish.
speaking of which, the rumor appears to be true. They're catching them up on the Commons.
Denny: Then What the hell are we doing on this balcony?
Alan: Indeed.
Denny: Cheers, my friend.
__

Catherine Piper: Killing his mother was strike one, killing his neighbor was strike two. And the way he talked? Bernie had a third strike coming.
__

Denny: It's not loaded. *the gun goes off* Oh, I guess it is.
Alan: For God's sake, Denny!!!
Denny: Oh, lighten up, will you? *the gun goes off again*
Shirley, rushing in: What in God's name - !!
Denny: And it is in God's name, Shirley! The right to bear arms. Second commandment.
Shirley: That would be the Second Amendment.
Denny: Same difference.
__

Denny: When God strips you of your talent, He should at least have the decency to strip away the memory of having had it.
__

Shirley: Awfully tiny cigar.
Denny: That' s the kind of cigar that goes along with our wimpy defense today.
__

Denny: I feel devalued. I always wanted to go out with my pride. Failing that, at least my old time slot.

Did You Know... ?

The final scene of A Whiff and a Prayer was priceless - the Andy Griffith whistle song, walking toward the Boston Commons at night carrying fishing poles and wearing waders with patented Boston Legal ties, the 'that's all, folks' circle fade out. It was how DEK always ended Ally McBeal - someone walking the streets of Boston.


Tara's resignation letter [larger image]
It's addressed to Alan and it's very business-like. Try and decipher Tara's resignation letter from this screen shot. The CP&S address: Of course, they're on Boylston St., but not "500". Rather, the fictitious "4238". But apparently Fleet St. was handily discarded.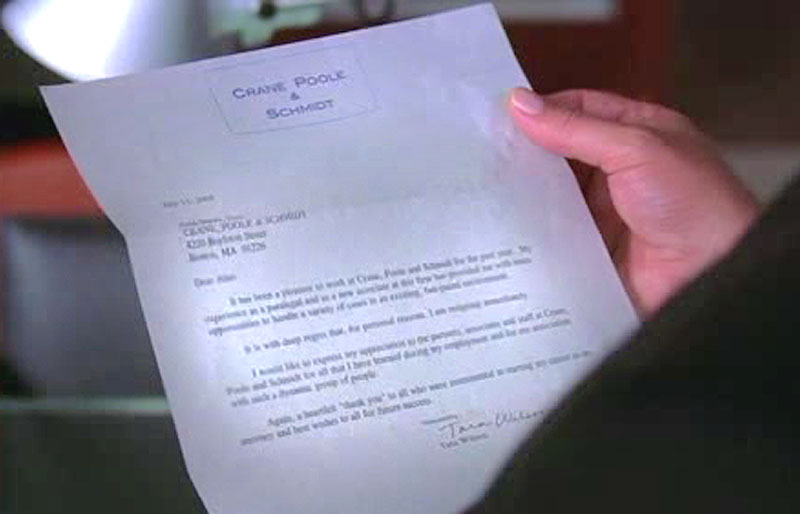 Episode Reviews


2.04 'A Whiff and a Prayer' written by Abney

... coming ...



[Listen to Abney and Dana's conversation about A Whiff and a Prayer - mp3 download]


Episode News


Ratings
October 18, 2005 "A Whiff and a Prayer"
Households: 7.9/13, #4; adults 18-49: 3.4, #8.
BL was in second place in its time slot and ABC took second place overall for the night with 7.8/12.

By comparison, the most viewed show of the night was "NCIS" at 8 p.m. on CBS, drawing more than 17 million viewers for its biggest audience ever. ABC took the lead at 9 p.m. with "Commander in Chief," 10.5/16. BL did better than last year on this night: "NYPD Blue" - households: 5.6/9, #T8; adults 18-49: 3.0, #10 [Source: Nielsen Media Research @ABC, Zap2It & futoncritic]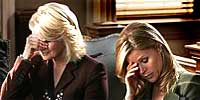 Episode Video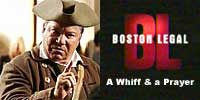 Boston Legal: TWO "A Whiff & a Prayer" Previews
Airdate: October 18, 2005


Watch "A Whiff & a Prayer" preview #1 (:30)


Watch "A Whiff & a Prayer" preview #2 (:50)
wm stream; 340 bitrate / no downloads
Boston Illegal Radio


"A Whiff and a Prayer" mp3 download [57 min; 20 mb]


Listen with streaming mp3 or subscribe via Odeo


iTunes subscription
Download free iTunes application
Episode Images
Memorable scenes >> go
Transcript
.Read the episode, transcribed by Imamess >> pdf file
Episode Forum
Share your thoughts >> go
Episode Ratings
October 18, 2005:
Households: 7.9/13, #4; adults 18-49: 3.4, #8.