Episode Credits | Dialogue | Did You Know... ? | Reviews | News & Ratings
Episode Summary

"Shock and Oww!" / Season 2, Episode 18
Broadcast: March 7, 2006
Repeat: June 27, 2006
A story of 50,000 volts, a partner at Narcotics Anonymous, fathers and daughters, vigilantes, American Homeowners and Denny finds his bliss again.

Rachel Lewiston is arrested, Brad tries to help Rachel by posing as a drug addict. A homeowner is in trouble for boobytrapping his home to catch burglars. Denny takes a bath - with Alan.

From ABC: Denny Crane finds just the right thing to cure his depression after his one-day-old marriage falls apart: The case of a man arrested for electrocuting and paralyzing a burglar. Meanwhile Shirley Schmidt seeks Alan Shore's help when nude photos of her taken by a famous photographer are put up for auction. And a suspicious Paul Lewiston asks Brad Chase to befriend his daughter to find out if she's still using drugs.

Episode Credits

Directed by .... Jeff Bleckner
Written by .... Phoef Sutton & Sanford Golden & Karen Wyscarver

Jayne Brook ... Rachel Lewiston
Currie Graham ... A.D.A. Frank Ginsberg
Daniel Roebuck ... Russell Blayney
Fran Bennett ... Judge Diane Avent
Patrick Renna ... Attorney Warren Peters
Richard Bairos ... Miguel Dominguez
Robin Riker ... Candy Springtime
Bonnie Bartlett ... Marguerite Hauser
Mark Derwin ... Attorney Michael Eaves
Ashley and April Rios ... Fiona
Wesley Thompson ... Tim
Ted Garcia ... reporter
Carol Herman ... elderly woman
Suzanne Whang ... juror no. 1
Dennis F. Chavis ... juror no. 2
Michele Moreno ... juror no. 3
Valerie Vaile ... juror no. 4
Baadja-Lyne ... juror no. 5
Lakshmi Manchu ... juror no. 6
Carolyn Lawrence ... thirty-year-old juror
Jim Troesh ... man

>> More information on the guest stars in our forum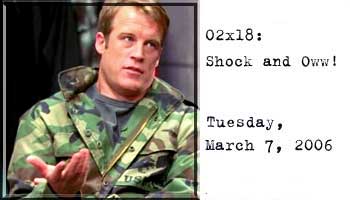 Episode Dialogue


Russell Blayney: You're Denny Crane. I saw you on Larry King. You're famous.
Denny Crane: So wouldn't you rather have me as your attorney than Steve from Blues Clues here?

__

Denny: You. Young punk. You must know computers. Set up a website. All those blobs.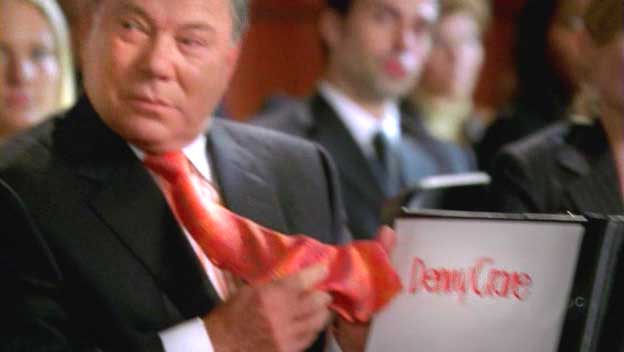 Each Jury member: American Homeowner.
Denny Crane: God bless America.
Judge Avent: You both have manipulated the media coverage of this case, only Mr. Crane has done a better job of it. You will play in the sandbox that you built.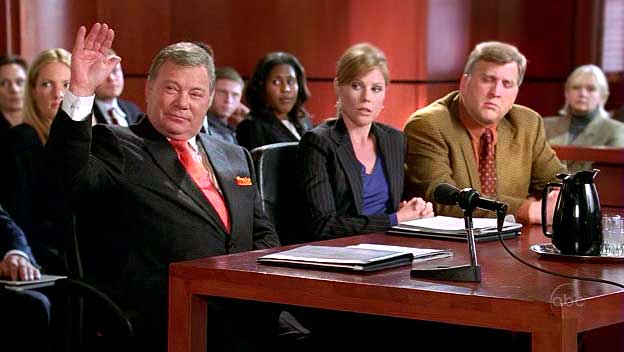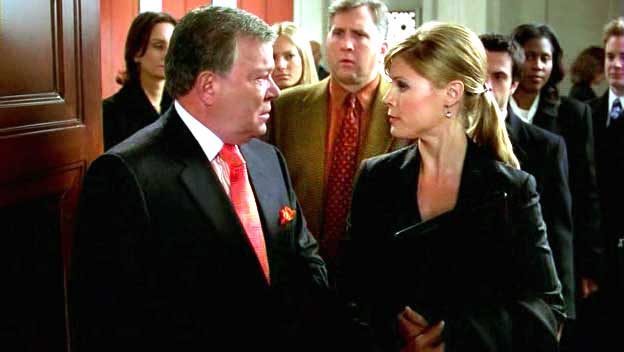 Denny: That bastard stole my story.

__

Tim: Thank you, Patrick. Keep coming back, buddy. *Checking clipboard* Um, any other new members… Brad, would you like to share?
Brad Chase: *He looks around. This is way more than he bargained for* Oh, no. I'm… new.
Rachel Lewiston: It'll make you feel better.
Brad Chase: Right. *He stands* Um… Hi, I…
Rachel Lewiston: *Whispering* Say your name.
Brad Chase: I'm Brad. I'm… a drug addict.
Everyone: Hi, Brad.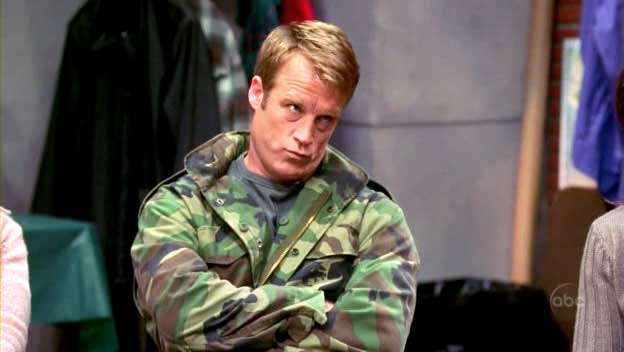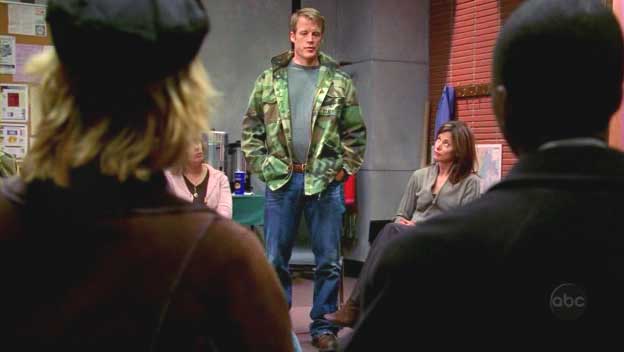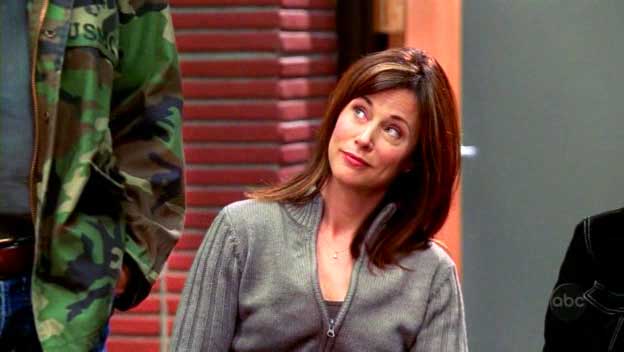 Brad: *presenting facts in evidence - and deflecting sharing* "... February 24th, 1991, I was Lieutenant in the 2nd Reconnaissance Battalion of the 1st Marine Expeditionary Force and under enemy mortar and artillery and small arms fire, we breached mine fields, trenches, barbed wire and disabled six enemy divisions and by the morning of the ... "


Did You Know... ?

Six Degrees of the Guest Star

Bonnie Bartlett as Marguerite Hauser - Bartlett is a highly-regarded actress who debuted on television in the '50s before taking a break from acting to raise a family with her husband, actor William Daniels. She returned to full-time work in the '70s and later won two Emmy awards for her portrayal of Ellen Craig (her character's husband was played by Daniels) on '80s show St. Elsewhere. Her numerous guest roles since then include one appearance on LA Law (1992) and two on The Practice (1997 and 1999).

Daniel Roebuck as Russell Blayney - Roebuck is a busy, long-time guest actor on many shows although his only previous work on a David E. Kelley show was on one episode of Boston Public (2001). He appeared twice on Star Trek: The Next Generation, as a Romulan in the "Unification" episodes which also included Leonard Nimoy. A fan of the monster/creature genre, he produced, wrote and appeared in the Monsterama TV series (2003-4). Read a recent article from his hometown paper mentioning his BL appearance.

Thanks to Sue for this research. For more acting Six Degrees for every guest star in this episode, see our forum episode page
Episode Reviews


| 2.18 'Shock and Oww!' written by Abney


Coming soon.


Written by: Abney | Send feedback and comments to Abney at aliasabney@hotmail.com





Episode News


Ratings [101 by Nielsen]

March 7, 2005 "Shock and Oww!"
Households: 11.4 million viewers; 7.6/13, #5; adults 18-49: 3.4/9, #T6)

Boston Legal grabbed the top spot in viewers and household demos and tied for second for 18-49 with 3.4/9 [always good to be above a 3]. A repeat of L&O:SVU" scored a 7.2/12 for NBC, and "The Amazing Race" was third at 6.1/10.

Boston Legal lead in news: Compared with the last new broadcast of "Commander In Chief" (households: 6.8/10; adults 18-49: 2.3 on 1/24/06), the hour of "Sons & Daughters" was down 23.53% in households but up an impressive 39.13% in adults 18-49. " (households: 7.5 million viewers; 5.0/7, #9; adults 18-49: 3/7, #9 overall, #3 in time slot) In 'same time one year ago' news, the debut of "Blind Justice" did better than BL one year later (households: 8.1/14, #4; adults 18-49: 4.5, #5) but was fairly quickly cancelled. One never knows.

Primetime Ratings Report For the week of March 6-12, 2006
Released by ABC
ABC's "Boston Legal" is the Most-Watched TV Program on Tuesday at 10pm, Outpacing NBC by Over 1 Million Viewers and CBS by Nearly 2 Million Viewers.

>> More ratings information in our Forum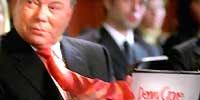 Episode Forum
Share your thoughts >> go

Episode Video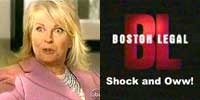 Watch the preview for "Shock and Oww!", Pt. 2 (:20) Airdate: March 7, 2006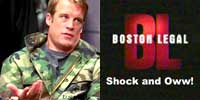 Watch the preview for "Shock and Oww!" (:40)

Boston Illegal Radio



Listen to our "Shock and Oww!" podcast with special guest co-host Daniel Roebuck, cast as Russell Blayney, Denny's 'American Homeowner' client.


"Shock and Oww!" Part 1 of 2 mp3 download [65 min; 23 mb]


Part 2 of 2 mp3 [81 min; 28mb]
>> Follow along with the Shock and Oww! podcast show notes



Listen or subscribe via Yahoo Podcasts

Listen with streaming mp3 or subscribe via Odeo


iTunes subscription
Download free iTunes application


Listen on your cell phone
Episode Images
Memorable scenes >> go
Transcript
Read the episode, transcribed by Imamess: [pdf] Transcript
Episode Ratings
March 7, 2006:
Households: 11.4 million viewers; 7.6/13, #5; adults 18-49: 3.4/9, #T6)