Episode Credits | Dialogue | Did You Know... ? | News & Ratings
Episode Summary

"Desperately Seeking Shirley" / Season 3 Episode 03
Broadcast: October 3, 2006

A story of murder, post-nup nullification and The Badger

When Ivan Tiggs (Tom Selleck) wants to invalidate the post-nup Shirley Schmidt drafted so he can divorce his current wife, Schmidt finds herself in court, battling her former lover -- and his new attorney, Alan Shore. Meanwhile, Jeffrey Coho's persistence and ethically dubious tactics help him elicit key information from witnesses as he prepares to defend an accused murderer, and Denny Crane's "petite" Internet date, hurt by his comments on her size, pursues a lawsuit against him.

Episode Credits

Directed by .... Jim Bagdonas
Written by .... David E. Kelley & Janet Leahy

Tom Selleck .... Ivan Tiggs -
Constance Zimmer .... Claire Simms -
Meredith Patterson .... Missy Tiggs -
Ashton Holmes .... Scott Little -
Anthony Heald .... Judge Harvey Cooper -
Meredith Eaton-Gilden .... Bethany Horowitz -
Tyler Labine .... A.D.A. Jonathan Winant -
Ron Canada .... Judge Willard Reese -
David Dean Bottrell .... Lincoln Meyer -
Armin Shimerman .... Judge Brian Hooper -
Mark L. Taylor .... Attorney Adam Jovanka -
Curtis Armstrong .... Dr. Zachary Simon -
Jill Brennan .... Gracie Jane


>> More information on the guest stars in our forum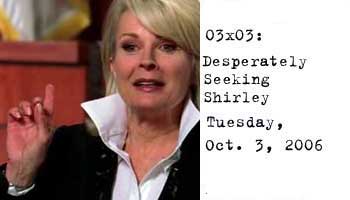 Episode Dialogue


Paul Lewiston: *regarding the media and the Scott Little trial* They're playing this for all it's worth.
Shirley Schmidt: Of course they are, ratings for the war are slipping.
__

Paul Lewiston: My God! We need to gag this woman.
Denny Crane: I did once. Best sexual experience of my life.

__

Ivan Tiggs: Honey, get the slobber towel.

__

Shirley Schmidt: Ivan! You're choking on your sixth wife. Have you ever thought about slowing down and
chewing them up more carefully?

__

Bethany Horowitz: You think you're just gonna make me go away?
Denny Crane: You want a war? You got a war!
Bethany Horowitz: You fat old man.
Denny Crane: Let the games begin, Small Fry.

__

Bethany Horowitz: Look at him, did I get Mel Gibson? Maybe I did.

__

Shirley Schmidt: Your resume intact?
Alan Shore: Shirley! You're being retaliatory! It becomes you.

__

Alan Shore: Mr Tiggs did satisfy you. Didn't he?
Shirley Schmidt: I'm under oath. It wasn't his best work.


Did You Know... ?

pending




Episode News


Ratings [101 by Nielsen]
Thanks to SueB and TopDog for gathering and post the ratings for this site.

October 3, 2006 "Desperately Seeking Shirley"
10.59 mil viewers, 2.9 18-49; Increased from the prior week in Total Viewers (10.6 million vs. 9.9 million) and Adults 18-49 (2.9/8 vs. 2.8/8). The ABC legal delivered a season high among Men 18-34 (2.0/6), the series' strongest delivery in the demo in nearly 8 months - since 2/7/06. Lead-in: Help Me Help You 10.08 mil viewers, 3.0 18-49.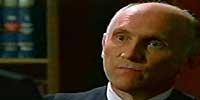 Episode Forum
Share your thoughts >> go

Episode Video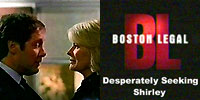 Watch the preview for "Desperately Seeking Shirley"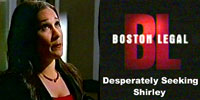 Watch the preview for "Desperately Seeking Shirley" (:30)

Boston Illegal Radio


Live Big mp3
Special guest co-host Georgia Murray, the nightclub vocalist from this episode.

Part 1 of 2 mp3 [74 min; 26mb]
Part 2 of 2 mp3 [58 min; 20mb]
Live Big Show Notes
Trek in the Courtroom Show Notes [pdf]



Listen or subscribe via Yahoo Podcasts

Listen with streaming mp3 or subscribe via Odeo


iTunes subscription
Download free iTunes application


Listen on your cell phone
Episode Images



Memorable scenes >> go
Images in forum >> go
Transcript
Read the episode, transcribed by Imamess: [pdf] Transcript

Episode Ratings
October 3, 2006:
Households: 10.59 mil viewers, 2.9 18-49. [see more below]