Episode Credits | Dialogue | Did You Know... ? | News & Ratings
Episode Summary

"Fine Young Cannibal" / Season 3 Episode 04
Broadcast: October 10, 2006

A story of a consuming friendship.

Alan Shore's attraction to Shirley Schmidt increases as the two of them handle the case of a homeless man accused of cannibalism; Denny Crane finds himself drawn to the feisty, small-statured Bethany (Meredith Eaton-Gilden) while he helps her try a case against an HMO; and Jeffrey Coho continues his defense of accused murderer Scott Little (Ashton Holmes) in the most high profile murder case Boston has seen in years. Denise and Brad wrestle with their relationship while Alan and Denny wrestle in full WWF regalia.
.

Episode Credits

Directed by .... Bob Yannetti
Written by .... David E. Kelley & Susan Dickes

Betty White .... Catherine Piper
Constance Zimmer .... Claire Simms
Henry Gibson .... Judge Clark Brown
Currie Graham .... A.D.A. Frank Ginsberg
Ashton Holmes .... Scott Little
Meredith Eaton-Gilden .... Bethany Horowitz
Curtis Armstrong .... Dr. Zachary Simon
Armin Shimerman .... Judge Brian Hooper
Mark L. Taylor .... Attorney Adam Jovanka
Thom Gossom, Jr. .... Judge Blake Winters
David Dean Bottrell .... Lincoln Meyer
Jill Brennan .... Gracie Jane
Jan Hoag .... Jane Baker
Mike Binder .... Clarence Nichols
Katey Sagal .... Barbara Little
David McKnight .... Graham Potter
Robin Middleton .... Foreperson
Damien Leake .... Referee
Kurt Scholler .... Bailiff

Image credit: © 2006 ABC / Michael Desmond
Images taken August 15, 2006; abcmedianet.com

>> More information on the guest stars in our forum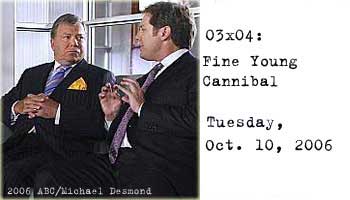 Episode Dialogue


Clarence: Any good news?
Shirley: Well... "Prime Time" wants to have you on.
Alan: During sweeps, they want you to eat Diane Sawyer.

__

Denny: Why are you dressed as an Indian?
Alan: Growing up, my favorite wrestler was Chief Jay Strongbow. This is how he'd enter the ring.
Denny: You look like one of the Village People.

__

Alan Shore: Shouldn't we pee in a cup first, I don't
Denny Crane: Mine are naturally high, let's go.

__

Jane Baker: What I saw next… I couldn't believe my eyes.
The jury is rapt, leaning in to hear.
A.D.A. Frank Ginsberg: What?
Alan Shore: Not to interrupt, but might this be a good time to take a break?
Judge Clark Brown: Sit down.
A.D.A. Frank Ginsberg: Tell us what you say, Ms Baker.
Alan Shore: For those of us who don't watch the news, or the district attorney's self-serving press conference.

__

Jane Baker: Yes, I'm sure. It was the most horrible disgusting, awful, horrible grotesque thing I ever saw in my life,--
Alan Shore: She left out--
Judge Clark Brown: Shocking.
Alan Shore: There you go.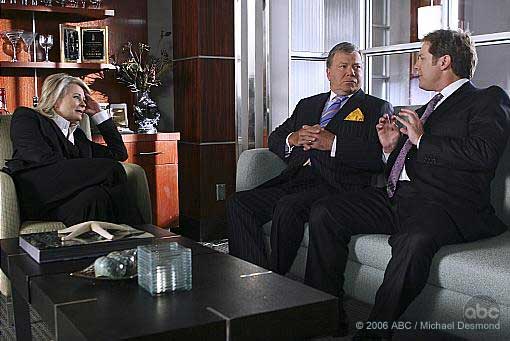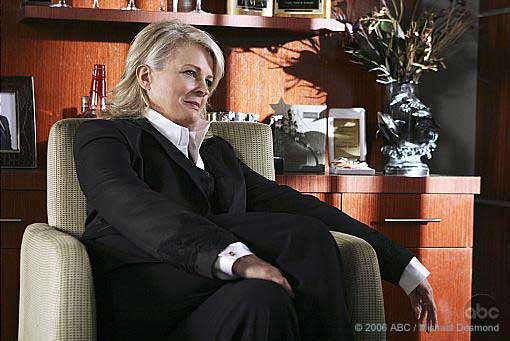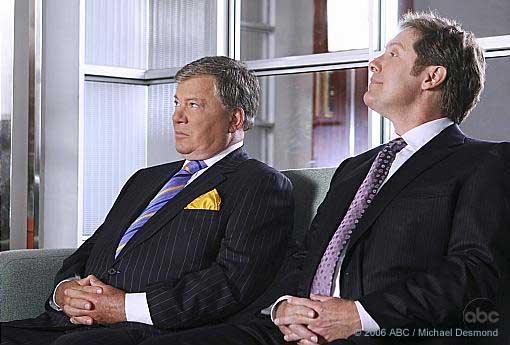 Did You Know... ?

Contributed by Sue:
Growing up, Alan Shore's favorite wrestler was Chief Jay Strongbow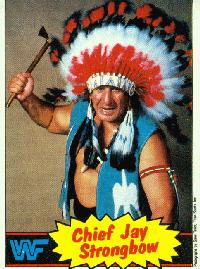 Episode News


Ratings [101 by Nielsen]
Thanks to SueB and TopDog for gathering and post the ratings for this site.

October 10, 2006 "Fine Young Cannibal"
in Women 18-49... it got a 3.8. That means in men 18-49 it gets a 2.0

BL was the 33rd ranked show last week in terms of numbers of viewers. For comparison, here are the rankings of ABC's other hour-long scripted shows:

1. Grey's Anatomy 22.8 million
3. Desperate Housewives 20.96
4. Lost 18.82
18. Ugly Betty 14.26
25. Brothers & Sisters 13.01
28. The Nine 11.910
33. BL 10.59
43. Six Degrees 9.11
58. Men in Trees 7.26

[Thanks to Sue]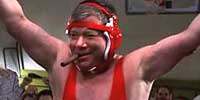 Episode Forum
Share your thoughts >> go

Episode Video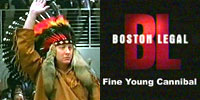 Watch the preview for "Fine Young Cannibal" ABC Promo (:15)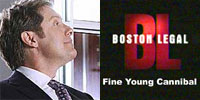 Watch the preview for "Fine Young Cannibal" Next on... (:30)

Boston Illegal Radio


Live Big mp3
Special guest co-host Georgia Murray, the nightclub vocalist from this episode.

Part 1 of 2 mp3 [74 min; 26mb]
Part 2 of 2 mp3 [58 min; 20mb]
Live Big Show Notes
Trek in the Courtroom Show Notes [pdf]



Listen or subscribe via Yahoo Podcasts

Listen with streaming mp3 or subscribe via Odeo


iTunes subscription
Download free iTunes application


Listen on your cell phone
Episode Images
Memorable scenes >> go
Images in forum >> go
Transcript
Read the episode, transcribed by Imamess: [pdf] Transcript

Episode Ratings
October 10, 2006:
Households: 10.12 million viewers (#2), with a 7.3/12 in the overnights and a 2.9/ 8 among adults 18-49 (#3). Women 18-49: 3.8. Men 18-49: 2.0