Emmy Awards [2007]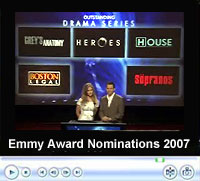 50th Emmy Awards Nomination Announcement; July 29, 2007 (5:25) BL receives six nominations. Broadcast: Sept. 16.

Emmy Awards [2006]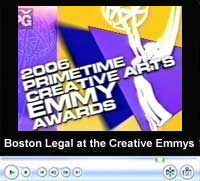 Watch clips from the 2006 Creative Arts Emmys
August 19, 2005 (8:50); See Christian Clemenson win, Mark and Julie present and the BL Sound Mixing guys take home their Emmy. Thanks to Beverly for sending me the footage.

Emmy Awards [2005]














Watch James Spader's Acceptance Speech for Outstanding Lead Actor Airdate: September 18, 2005 [4:00]
wm stream; 340 bitrate / no downloads

More Emmy 2005 video clips coming:
- Shatner sings!
- Emmy nomination announcements

Emmy Awards [2004]
Boston Legal and The Practice


Watch Emmy Presenter James Spader and Angelica Houston announce for Outstanding Directing.
(2:03)


Watch Acceptance clip (3:22)


Watch Emmy Backstage interview with E!, includes brief red carpet & Good Morning, America.



Download Video (2:26; 5 mb)
William Shatner & Sharon Stone's Guest Actor/Actress Drama Wins with Access Hollywood clip of the Creative Emmy Awards.
Watch the Emmy nominations clip
Windows Media download (3:37)

Coming: Clips from the Creative Emmy broadcast of Sharon's and William's acceptance.


Screen Actors Guild Awards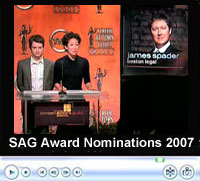 Watch the nomination announcement for the 13th Annual Screen Actors Guild Awards® with Sandra Oh, Elijah Wood and Screen Actors Guild® President Alan Rosenberg Jan. 4, 2007 (7:14)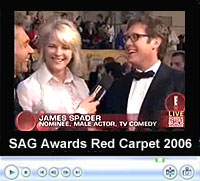 Screen Actors Guild Awards Red Carpet interview with James Spader, Candice Bergen and Ryan Seacrest; January 29, 2006 (2:09); Old event, but new video for this site! Thanks to Sue B for the video.

The Golden Globes [2004]





William Shatner WON a Golden Globe for "Performance by an Actor in a Supporting Role."
Watch the 2 minute Windows Media video


Panel Discussions



Watch the webcast from 'An Evening with Boston Legal' panel discussion, November 9, 2006 in North Hollywood. (68:00)
>> more images
>> discussion in our forum

Events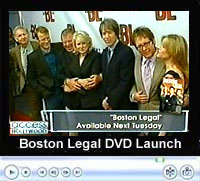 Access Hollywood covers the season 1 DVD launch; May 15, 2006 (1:03)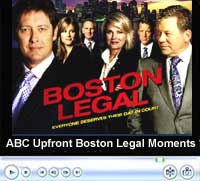 Watch Boston Legal moments from the ABC 2006-2007 Upfront Presentation; Event date: May 16, 2006 (9:38) / wm stream; no downloads